While there are certainly exceptions, it is fair to say that the majority of people go to work purely to earn money, but what they do earn and how it is spent can vary wildly. Just as house prices and the price of goods – the cost of living, in simple terms – can differ significantly, the amount earned by people and their ability to spend it also differs greatly.
New research by Citrix Sharefile aimed to shed light on this by creating a ranking of 'buying power', looking at the top 100 cities in the US. Focusing particularly on women in business, the research was part of a wider study that examined women in business and their effect and influence across the US.
For the study, buying power was calculated as a standardized score, taking into account both the average wage and the cost of living in a city. The key point to take away is that a high wage does not necessarily mean that people have more take-home money. A score of 100 was used to indicate the national average, with the following results determined: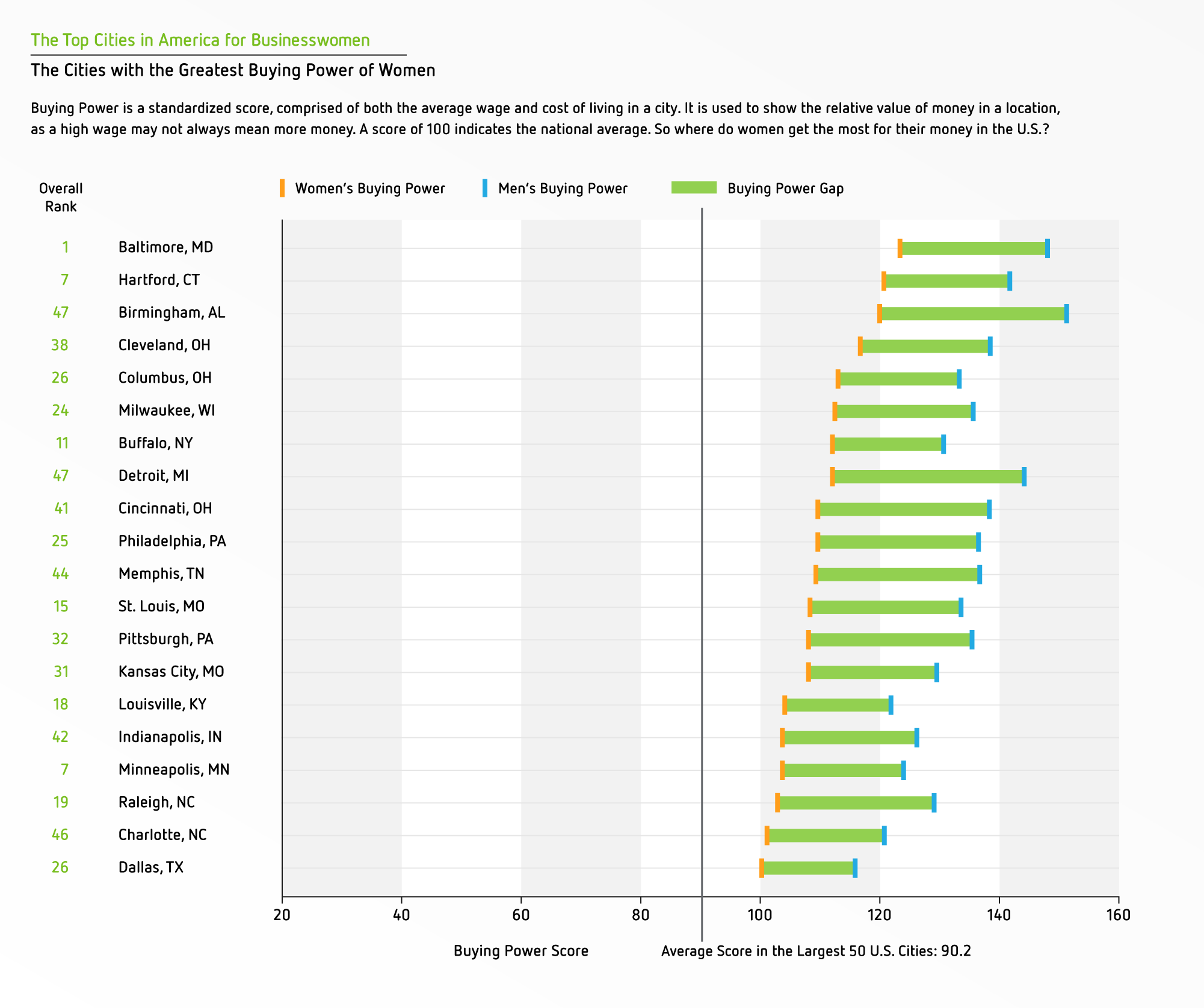 Baltimore topped with 123.4, followed by Hartford with 120.8 and Birmingham with 120.1
San Francisco was the worst, with a score of 20, followed by San Jose with 30.4 and Los Angeles with 37.8. The bottom 4 were all Californian cities, making it more expensive for women to live and work there than it would be for men
Over half the cities (30) were below the average of 100 in the US
The average across the top 50 cities was 90.2, which is almost 10 points below the entire US average
A major emphasis is often placed on salary and opportunity, but it is always worth considering that the cost of living varies greatly in many places and that wage is not comparative across many states or regions – let alone countries.
However, the victory for Baltimore was in keeping with the wider survey results, which showed that the Maryland city is the place to be for businesswomen looking to pursue a successful career.
As our previous blogs revealed (add link), Baltimore prevailed due to combination of a high percentage of women-owned businesses (23%), women business executives (31%), a low wage gap between women and men (18%) and the high buying power of women, as demonstrated above.
With one city able to excel in so many areas it is clear that opportunities for female executives do not need to be restricted to one criteria, but whether we see more cities follow Baltimore's example remains to be seen.