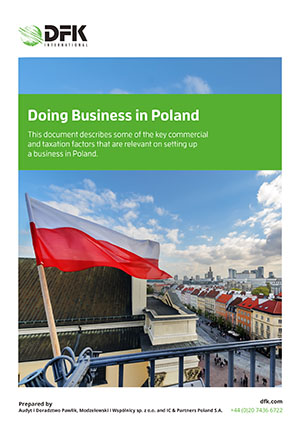 Key commercial and taxation factors that are relevant on setting up a business in Poland
Written and Produced by Audyt i Doradztwo Pawlik, Modzelewski i Wspólnicy sp. z o.o. and IC & Partners Poland S.A.
Overview
With population of 38.2 million, Poland is the sixth largest state in the European Union. Most Poles live in towns and cities. Polish is the official language, the most popular second languages spoken are English, German, and Russian.
Poland's GDP (PKB) increased by 3,2% y/y in FY 2017 (estimates by Polish Statistical Office).
Within the framework of EU subsidies programs for 2014-2020, Poland will have been granted about EUR 82.5 billion from the new EU budget. This amount will be allocated to various undertakings, including enhancing economic innovation and competitiveness, enhancing social and territorial cohesion, and increasing state efficiency. Polish economic development has surpassed the expectations of the European Commission.
Poland is an important transit country with still insufficient but steadily expanding network of roads. In the north Poland has harbours, including those in Gda?sk and Gdynia, and the Government invests in airports, railway, and road networks. This year (2017) the government plans to hold tenders for the construction of 900km of roads.
This document describes some of the key commercial and taxation factors that are relevant on setting up a business in Poland. The document includes information on:
Choice of Legal Form
Audit Requirements
Taxation
Allowances
Teamwork
Employment
Withholding Taxes
Miscellaneous